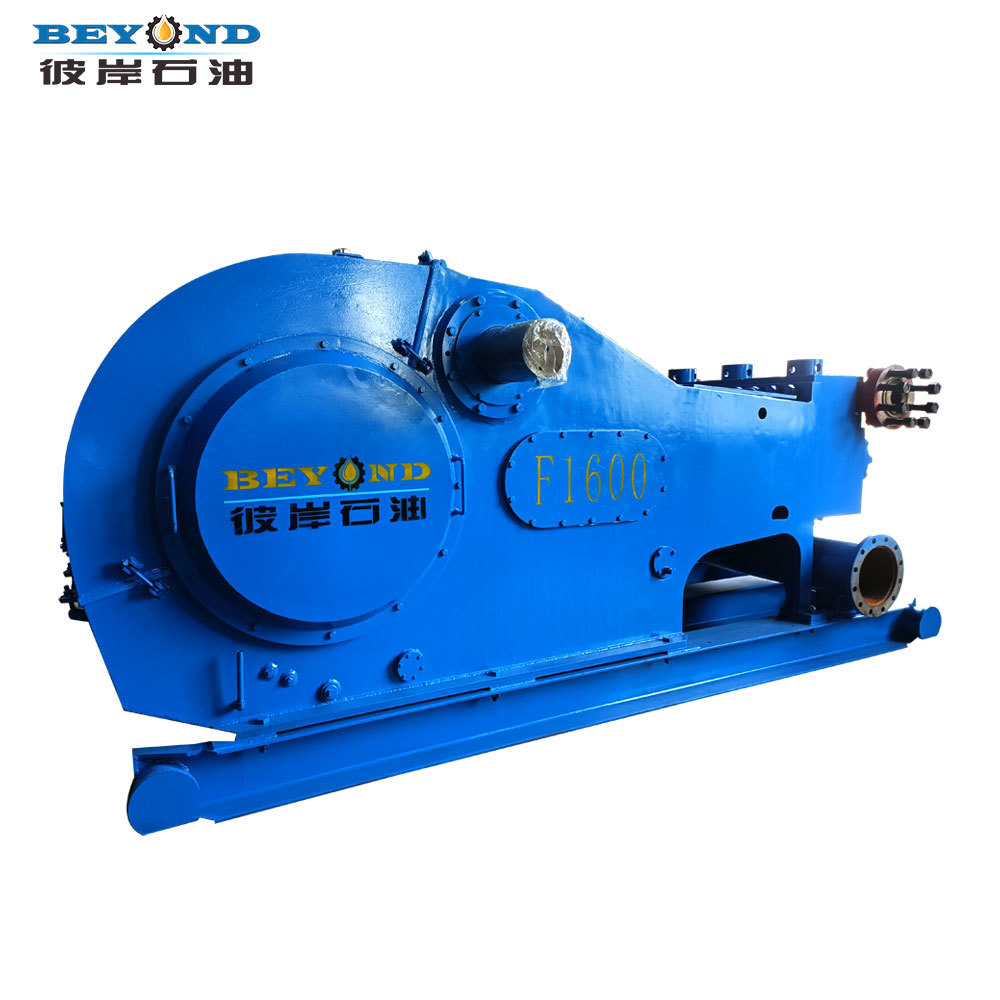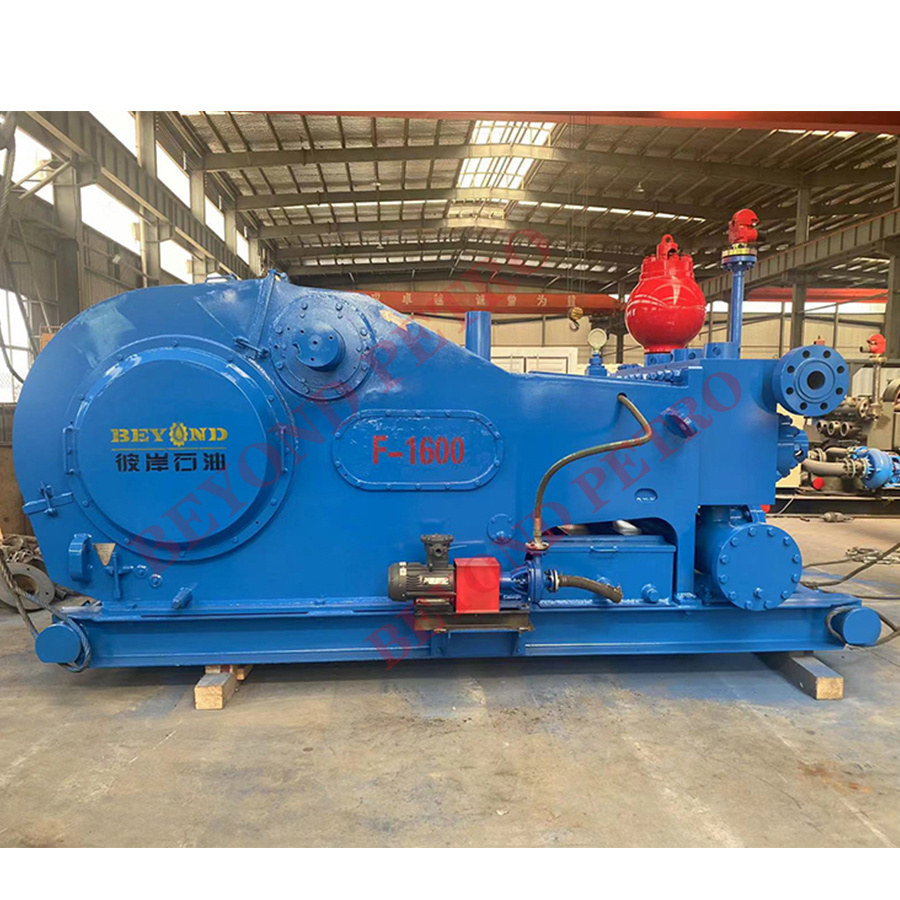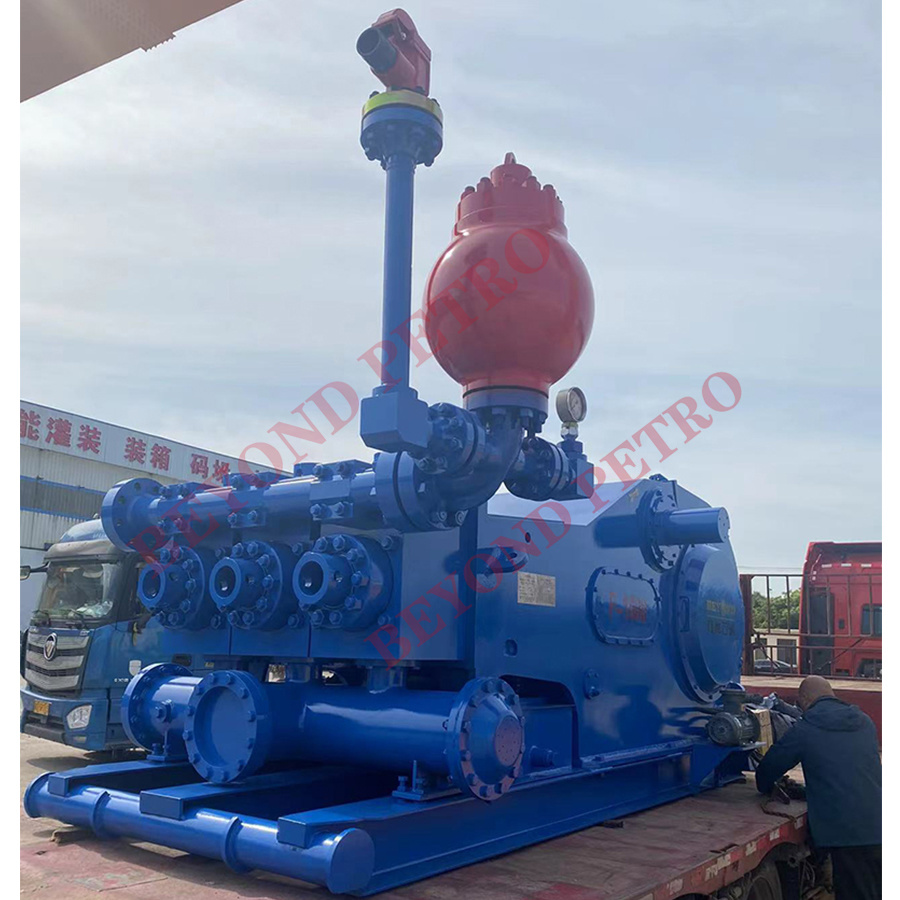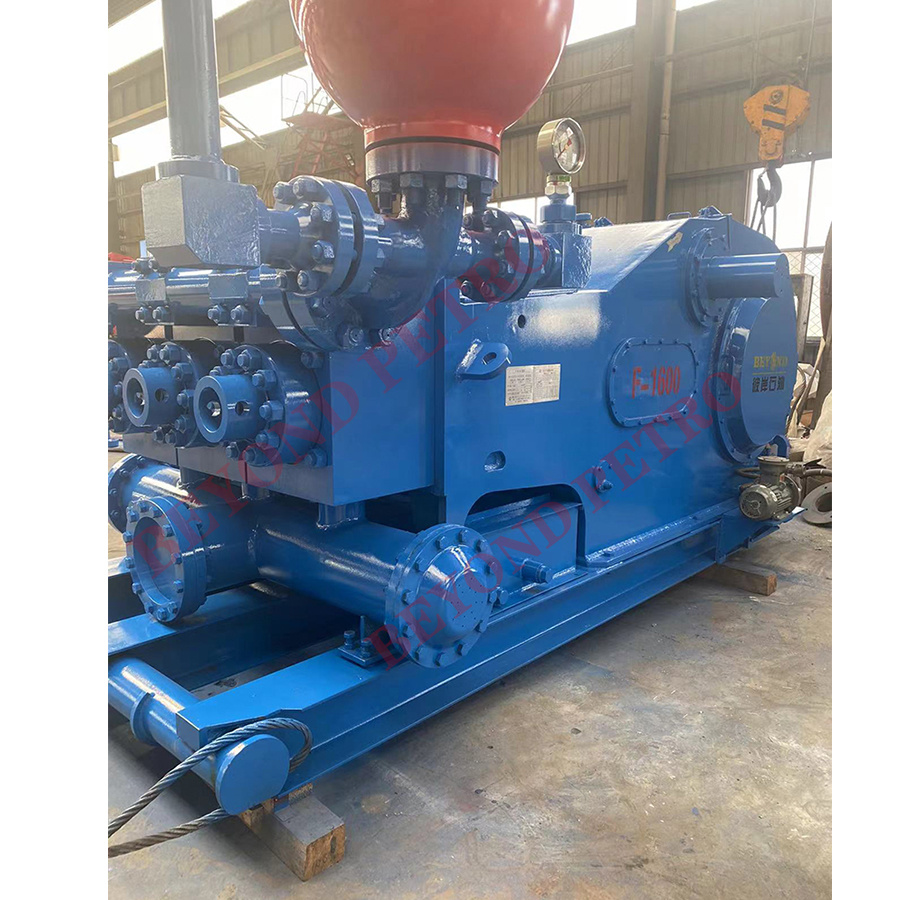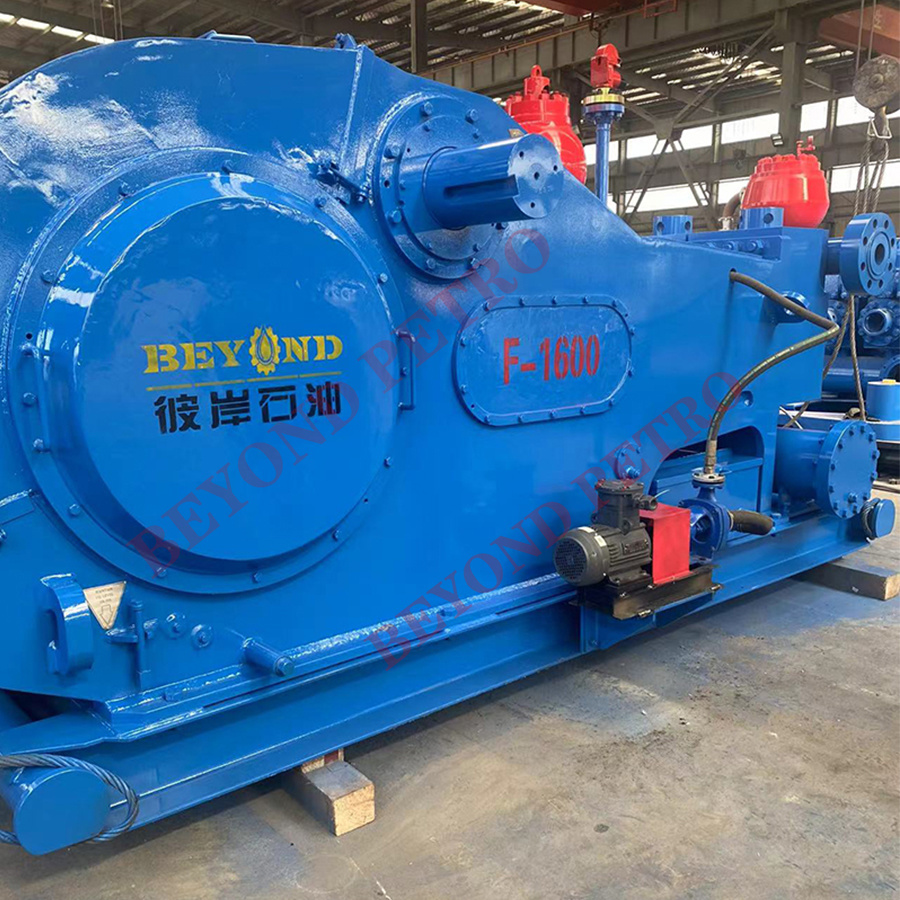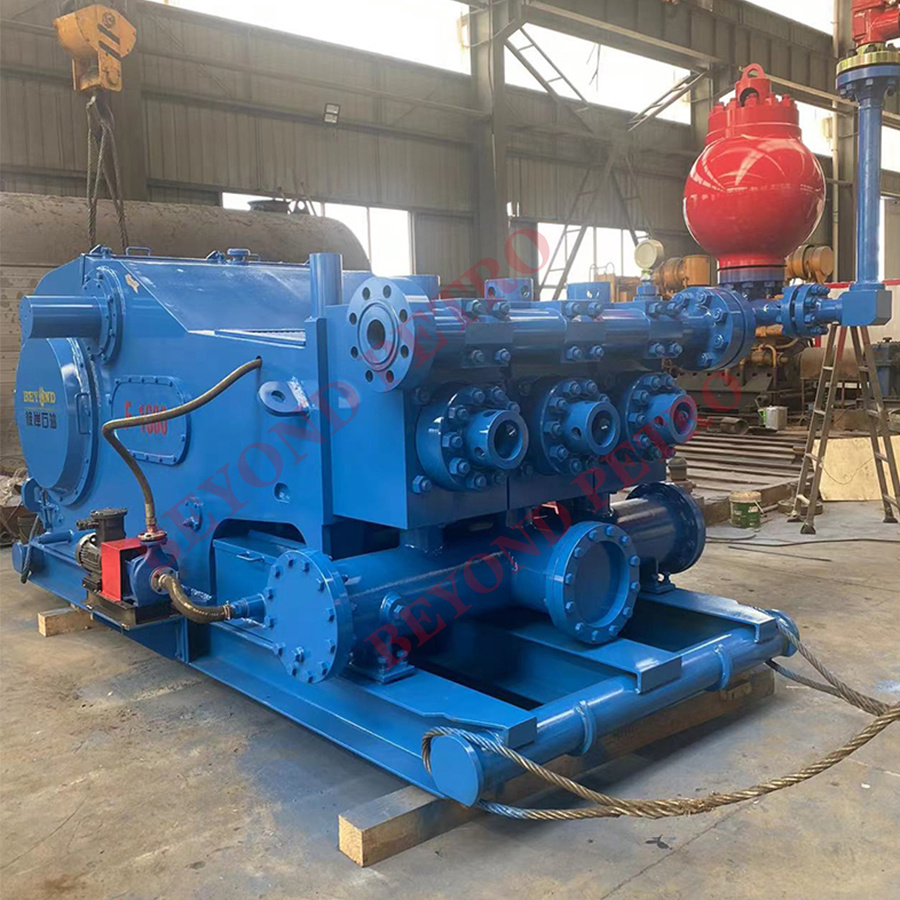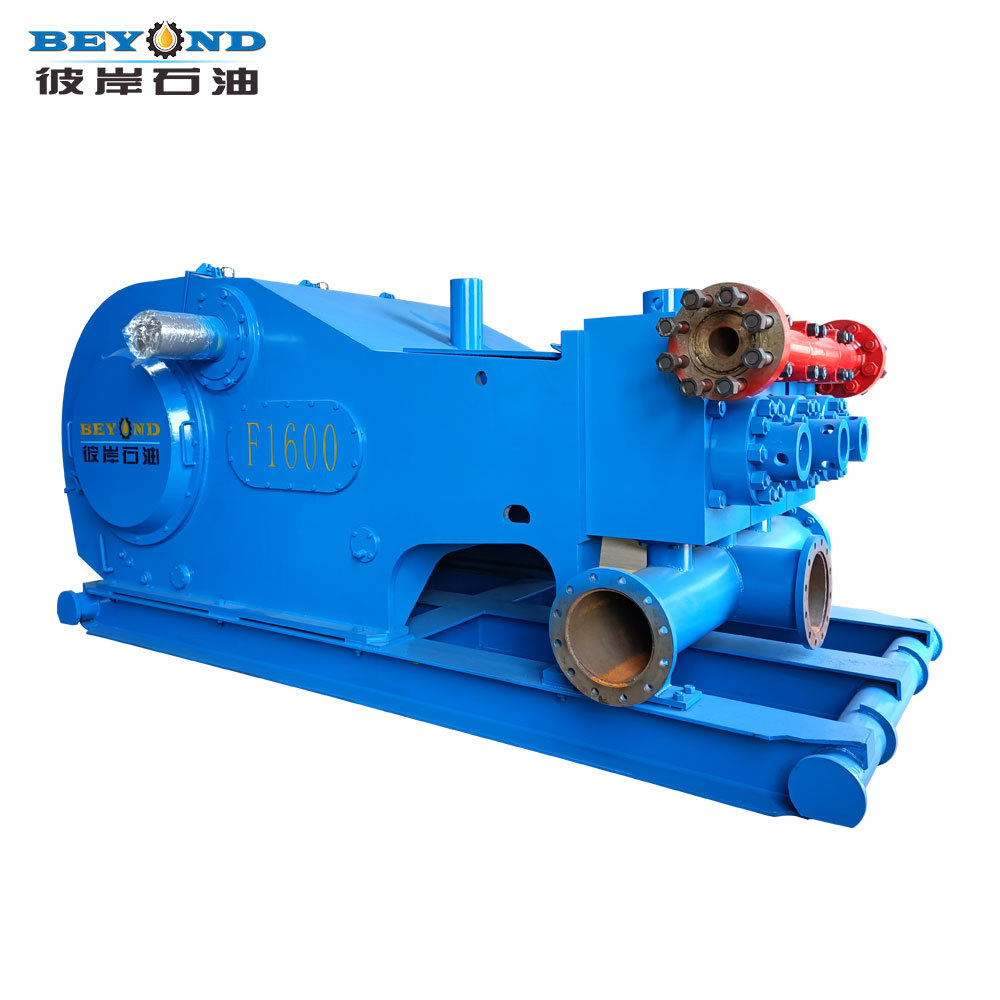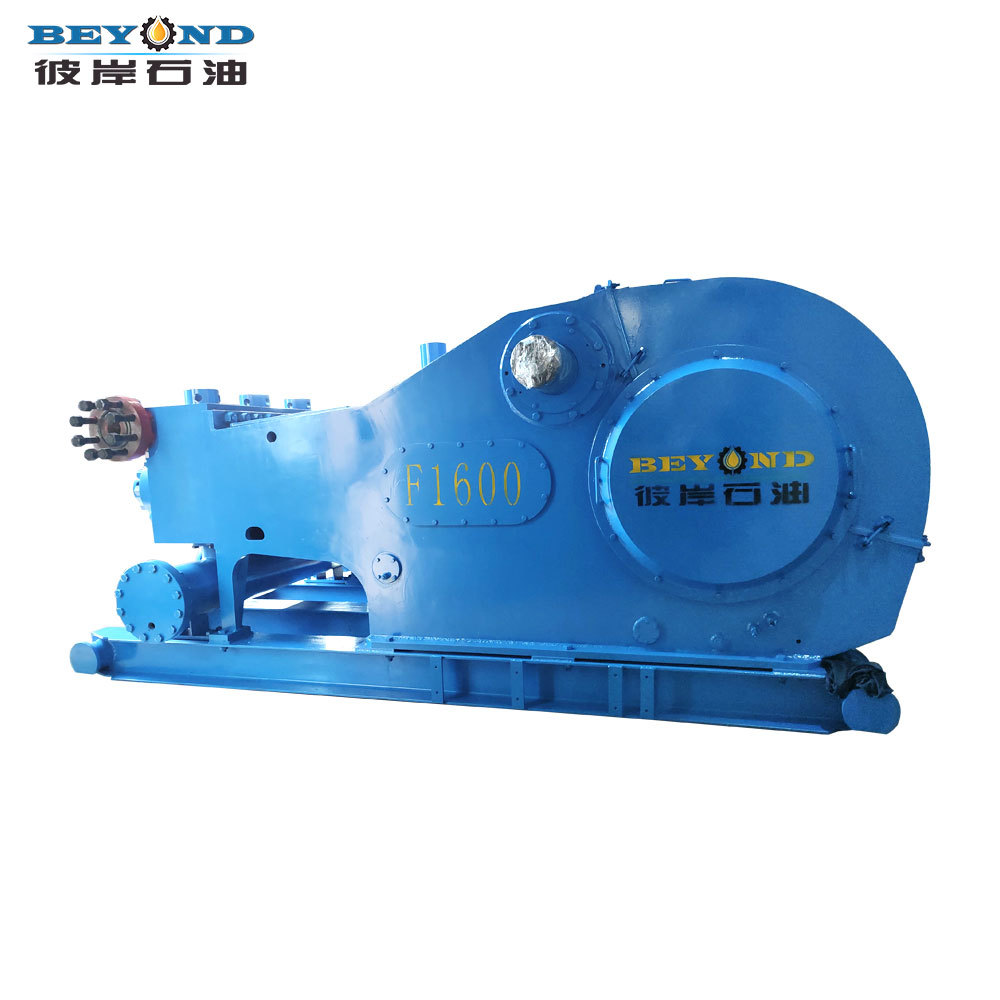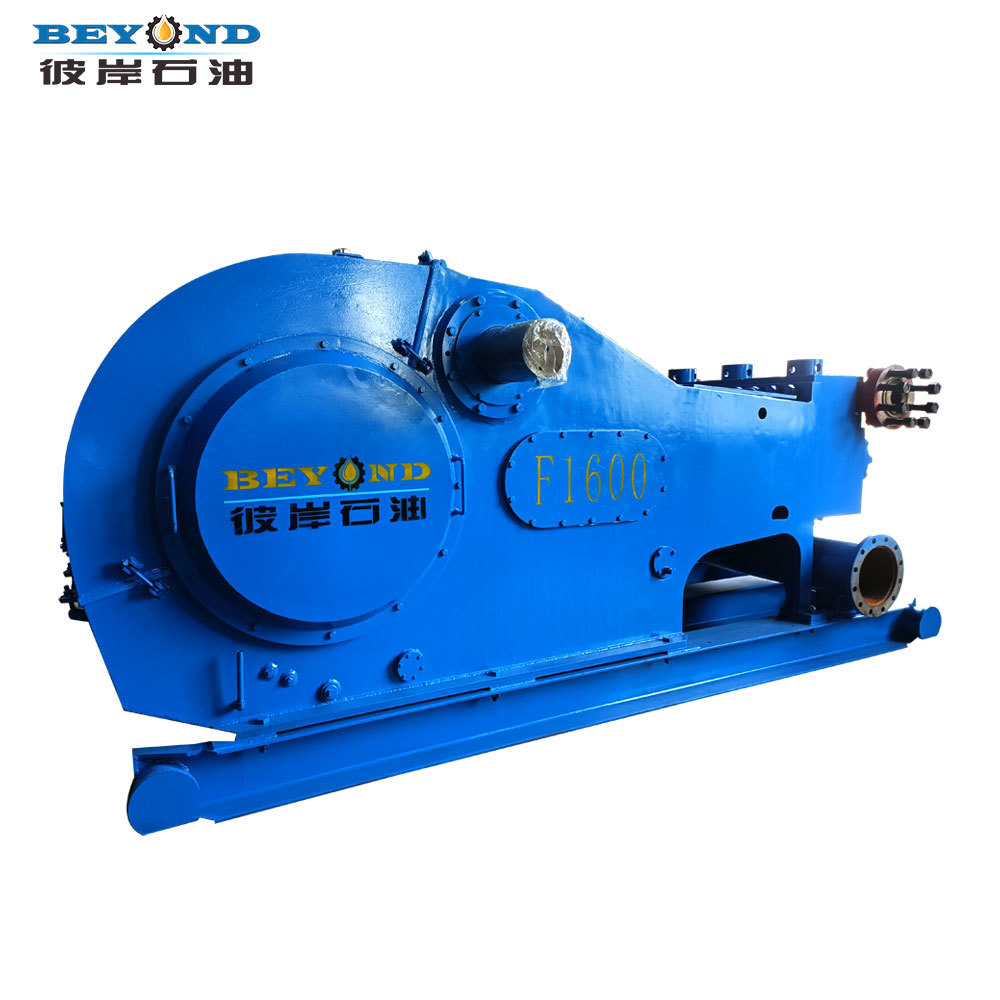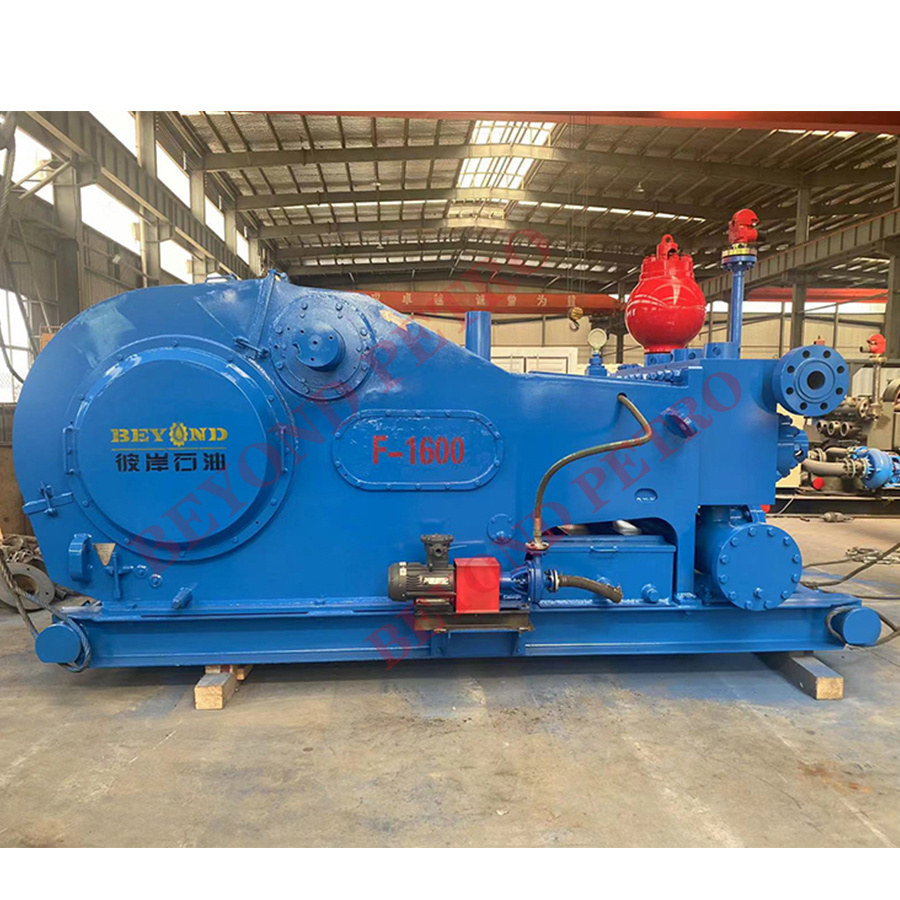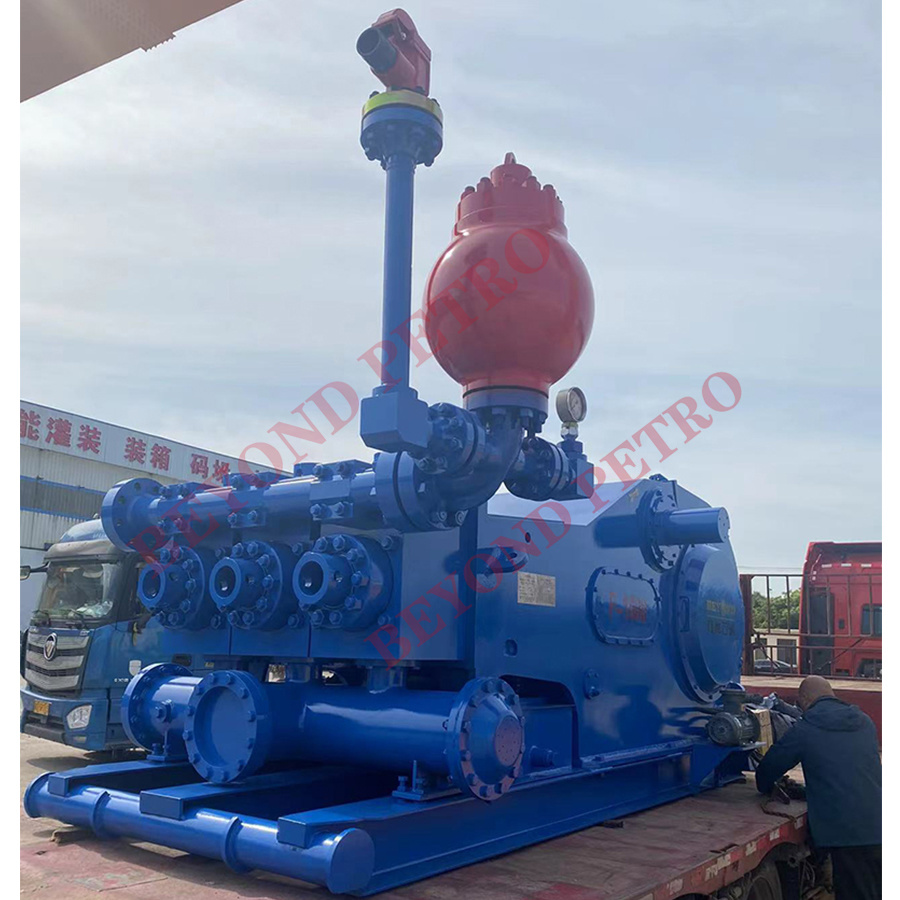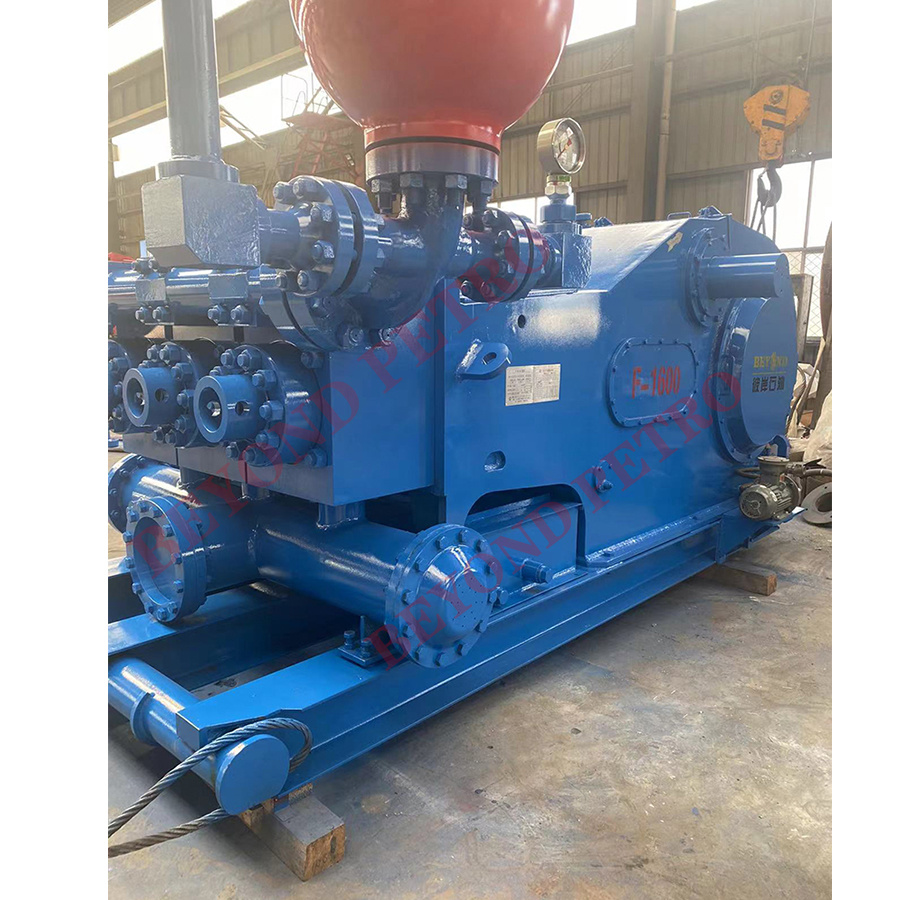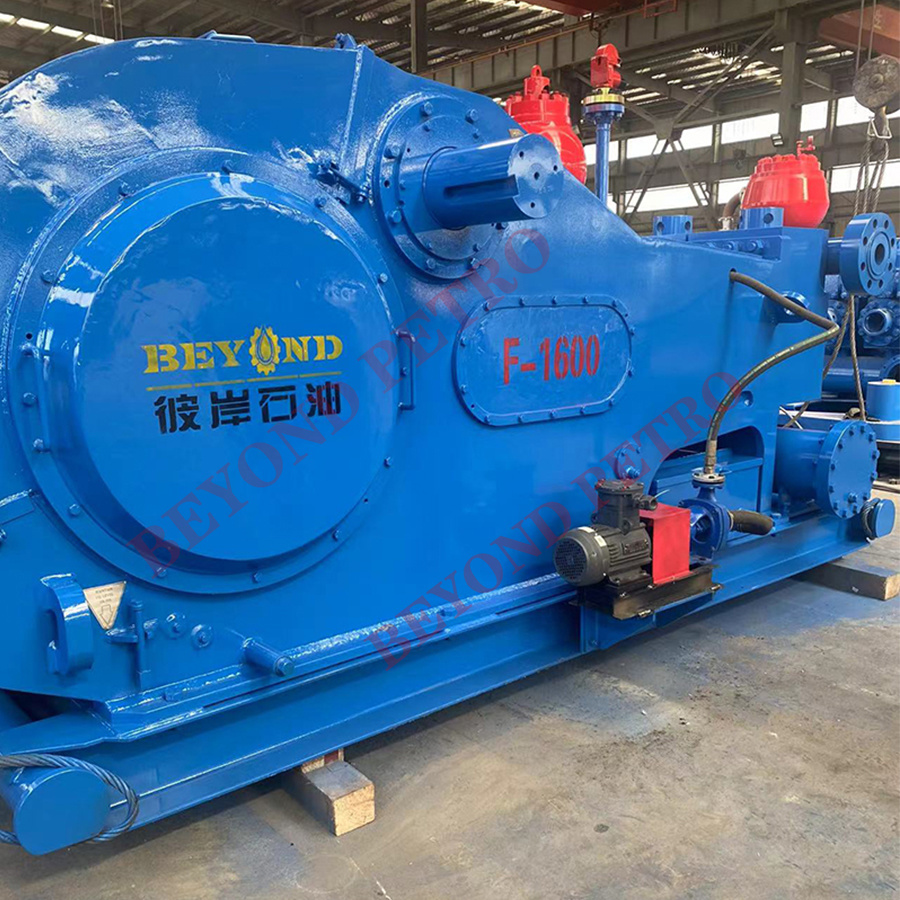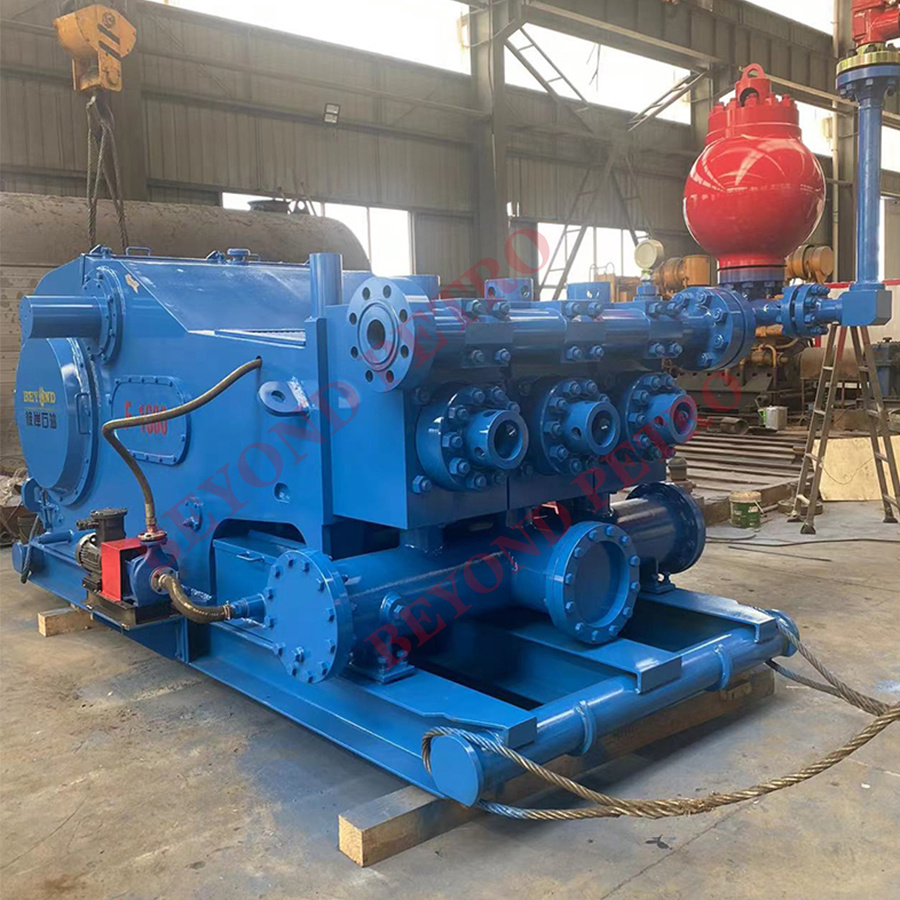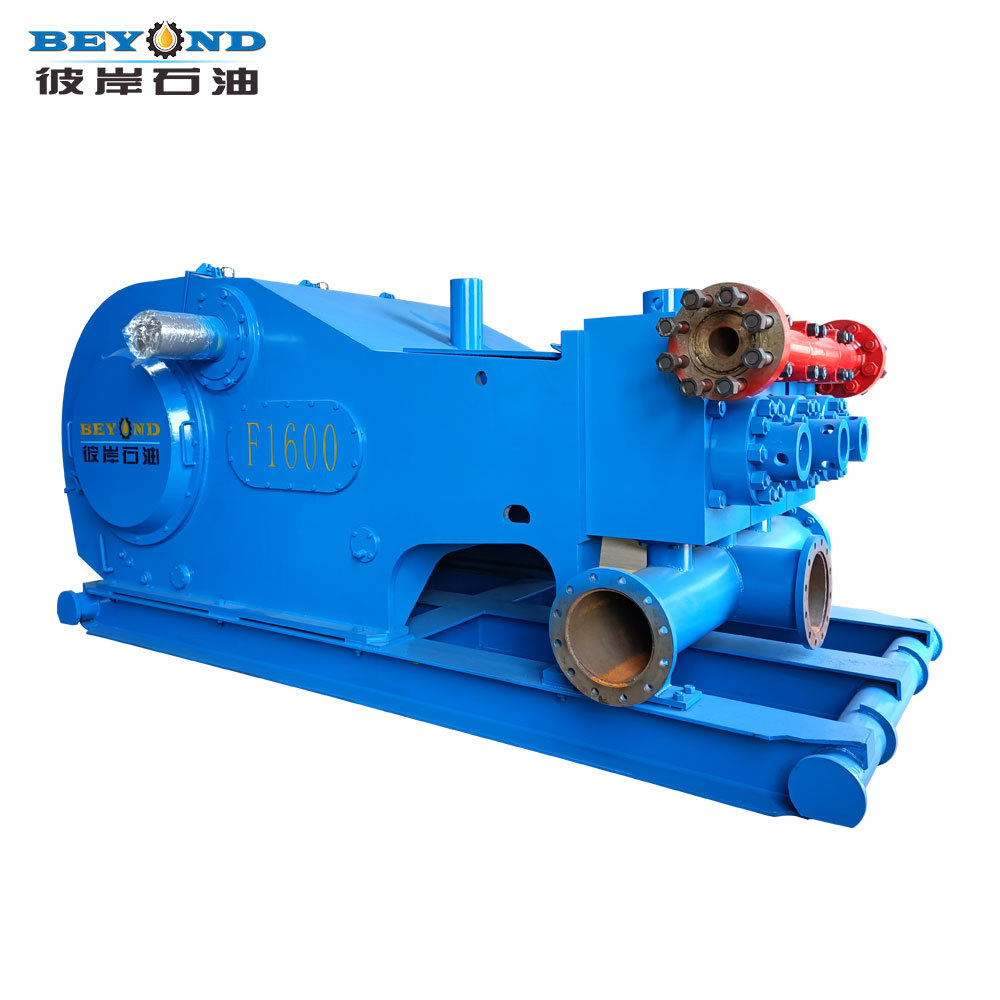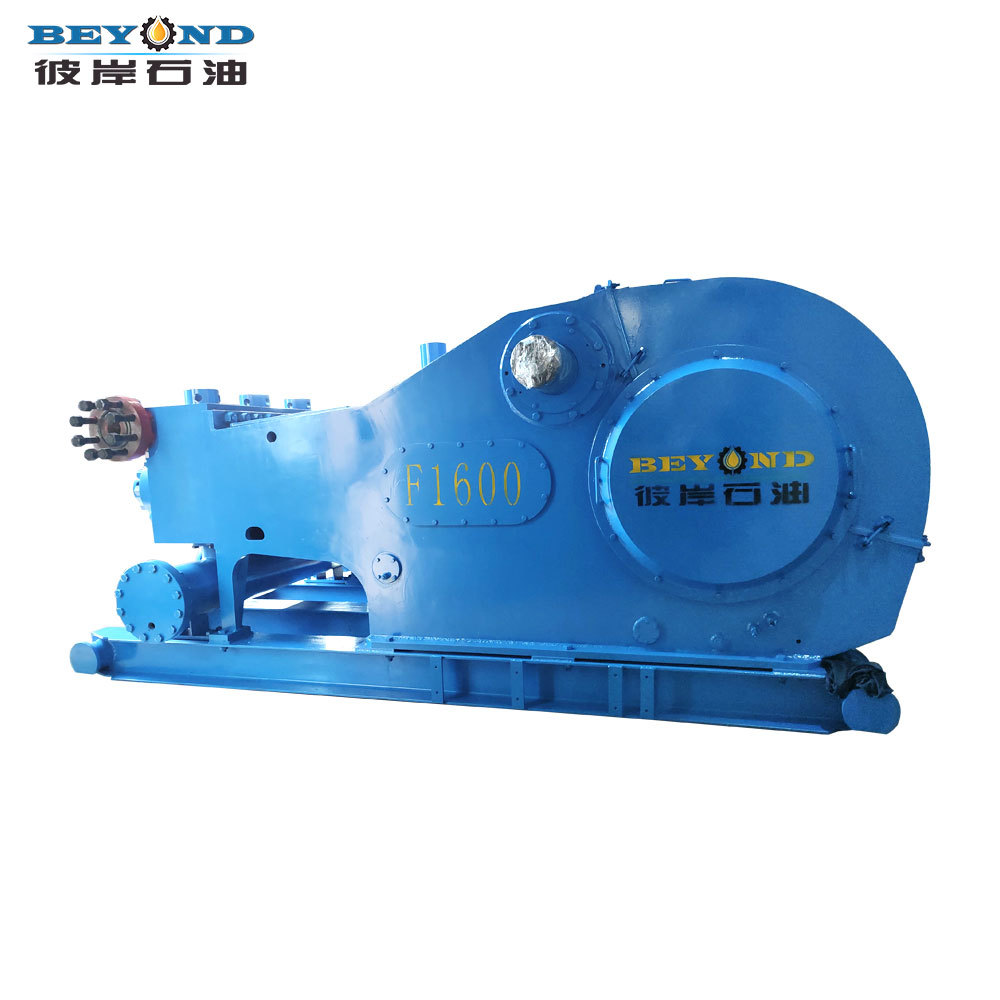 F-1600 Mud Pump
Our company F series mud pump is designed and manufactured strictly accordance with API 7K standard on the basis of Emsco F series mud pump. All its spare parts can be compatible with any other make pump. Therefore, the pump is easy to maintain internationally.
---
---
---
§equipped with pistons and liners of 6 ¾ inch;
§Pulse dampener, KB-75 type, fully equipped with connection flange, gauge, nitrogen charging device, etc.
§JA-3 shear relief valve with key
§Discharge manifold, suction manifold and connections, etc.
§Greasing system, splashing & forced greasing; with the gear oil pump for greasing the gears, bearings, crosshead, guiding plates, and extension rod etc.
§Pinion belt driven liner wash pump ASSY C/W all required accessories (wash pump, belt guard, hoses, recirculation tank ….) for cooling the liners' pistons (there is electric spraying pump as alternative)
§Jib crane with hand hoist and trolley, to handle different weights
§Equipped with pump pressure gauges
§Technical documentation, including:
§- maintenance and operating manual; hydrostatic test report; report with pump parameters (flow, pressure, spm), obtained within the unit; materials test report; certificate of quality;
Main technical parameters:
F-1600 Technical Specifications
Type

Horizontal Triplex Single Acting Piston Pump

Gear Type

Herringbone Gear

Rated Input Power

(KW/HP)

1193/1600

Gear Ratio

4.206:1

Rated Stroke (SPM)

120

Lubrication

Forced & Splashing

Stroke Length (mm/in)

305/12〃

Valve Cavity

API-7#

Inlet Connection

12〃(305mm)

Outlet Connection

5 1/8〃Flange 5000PSI

Weight(Kg/Pound)

24791/54660

Overall Dimension

(L×W×H)

4615×3276×2688mm

181.8〃×128〃×102.4〃

SPM

Rated Power

Liner Dia. (in) and Pressure Rating (Mpa / psi)

7

6-3/4

6-1/4

6

5-1/2

5

24.19

3508

25.46

3692

29.66

4300

32.16

4663

34.5

5000

35

5075

HP

KW

Displacement (L/S)/(gpm)

120

1600

1193

45.41

720

42.23

669

36.20

574

33.36

529

28.04

444

23.17

367

110

1467

1094

41.63

660

38.71

614

33.19

526

30.58

485

25.70

407

21.24

337

100

1333

994

37.84

600

35.19

558

30.17

478

27.80

441

23.36

370

19.31

306

90

1200

895

34.06

540

31.67

502

27.15

430

25.02

397

21.03

333

17.38

275

Based on 100% volumetric efficiency and 90% mechanical efficiency
Specification of F-1600
Stroke

per

minute

Liner size (mm) and Pressure Rating(Mpa) /(psi)

φ180

φ170

φ160

φ150

φ140

φ130

23.6

3345

25.9

3750

29.2

4235

33.2

4820

34.5

5000

34.5

5000

Displacement (L/S) /(gpm)

120

46.54

737

41.51

658

36.77

583

32.32

512

28.15

446

24.27

385

110

42.66

676

38.05

603

33.71

534

29.62

469

25.81

409

22.25

352

100

38.78

614

34.59

548

30.64

485

26.93

427

23.46

372

20.23

320

90

34.9

553

31.13

493

27.58

437

24.24

384

21.11

334

18.21

288

Based on 100% volumetric efficiency and 90% mechanical efficiency