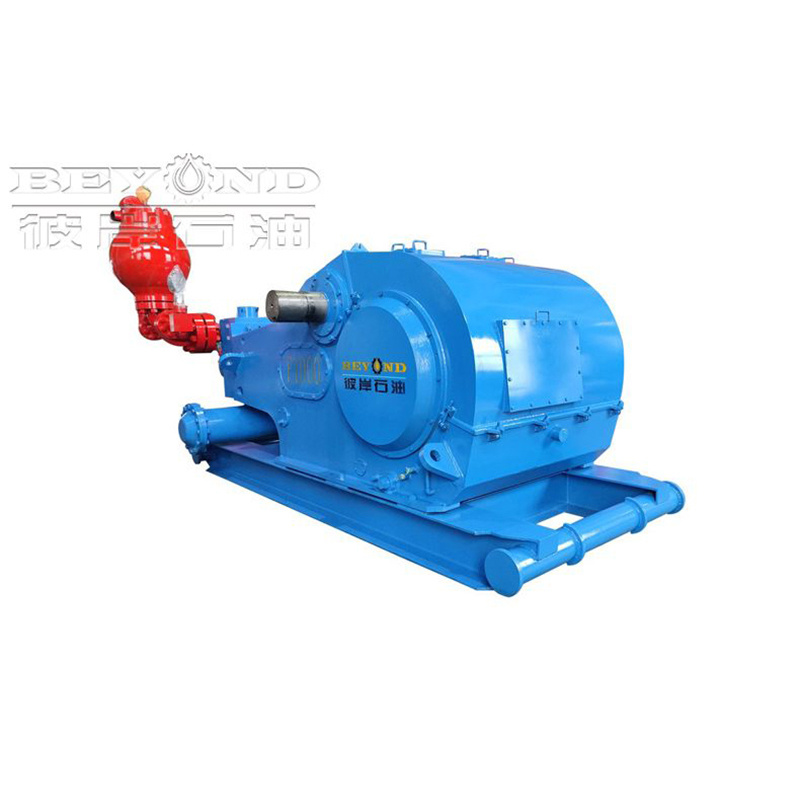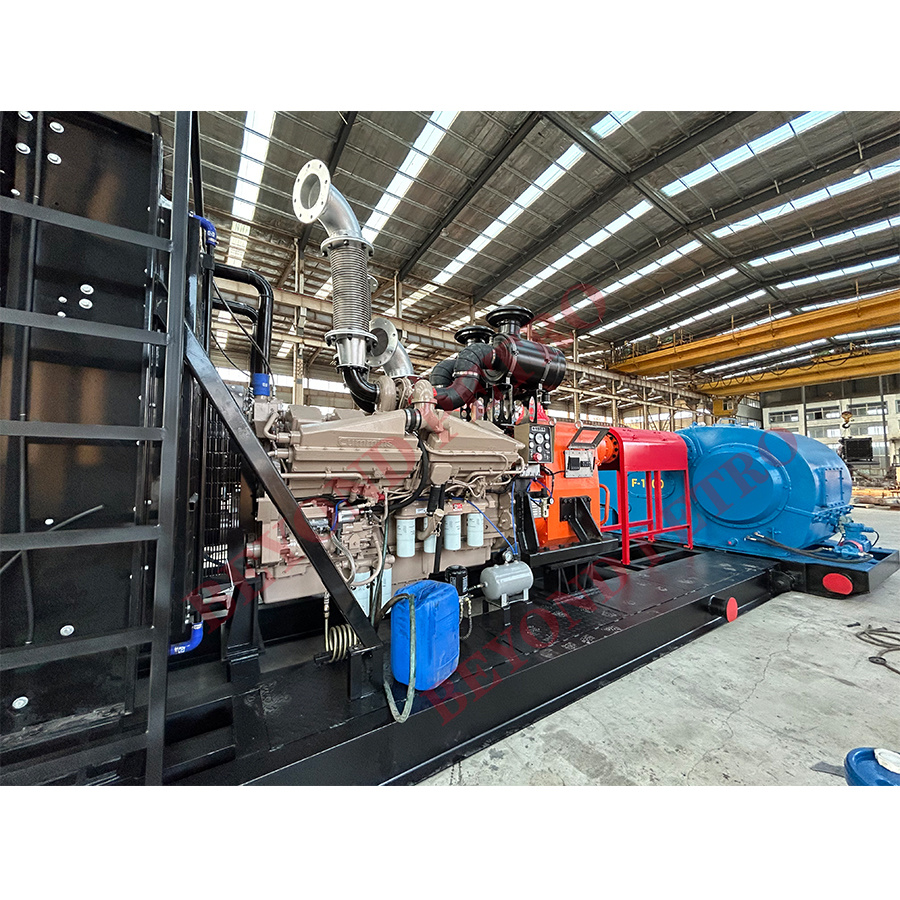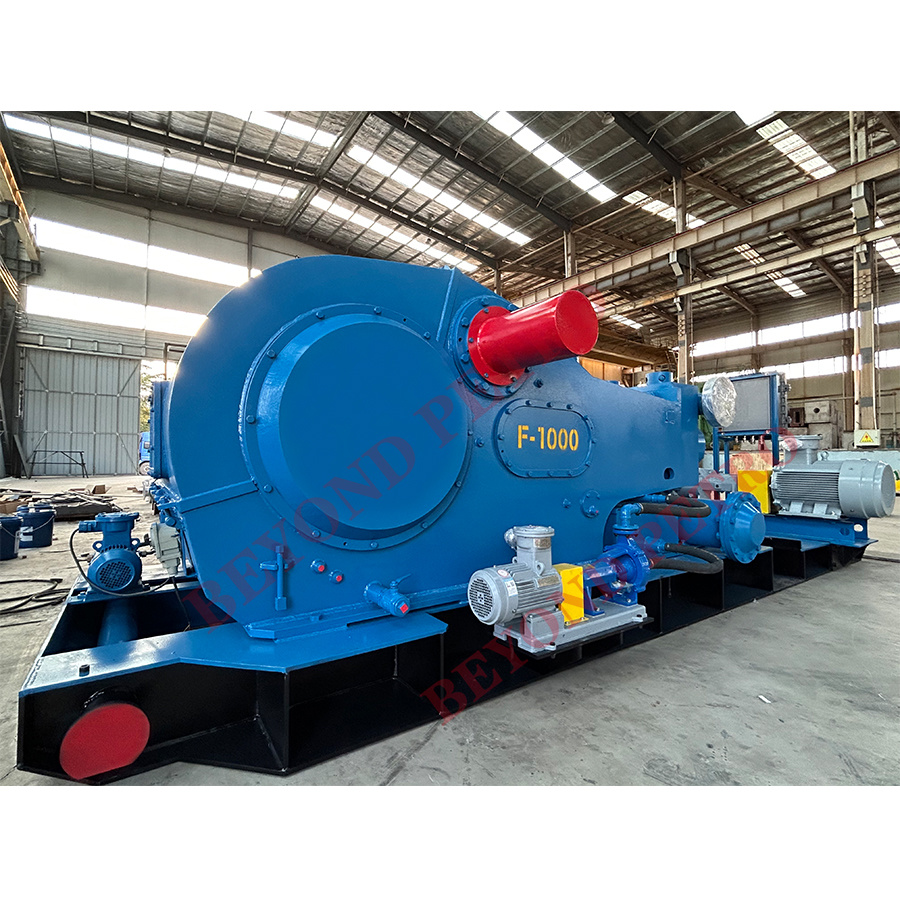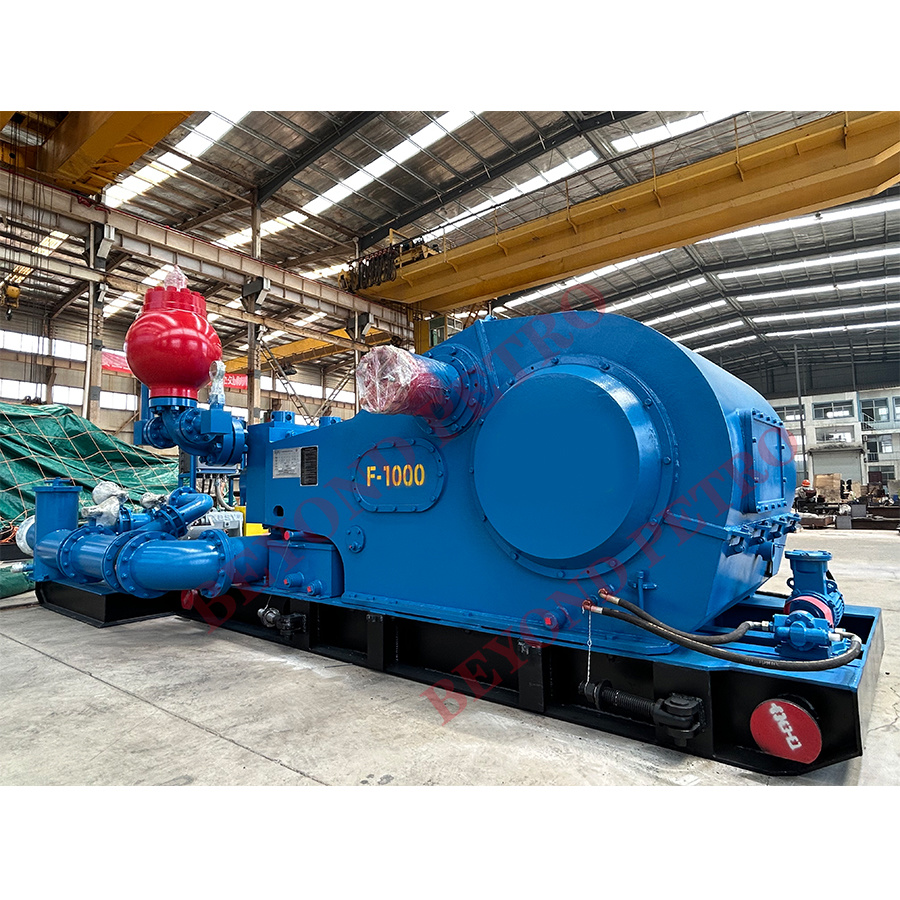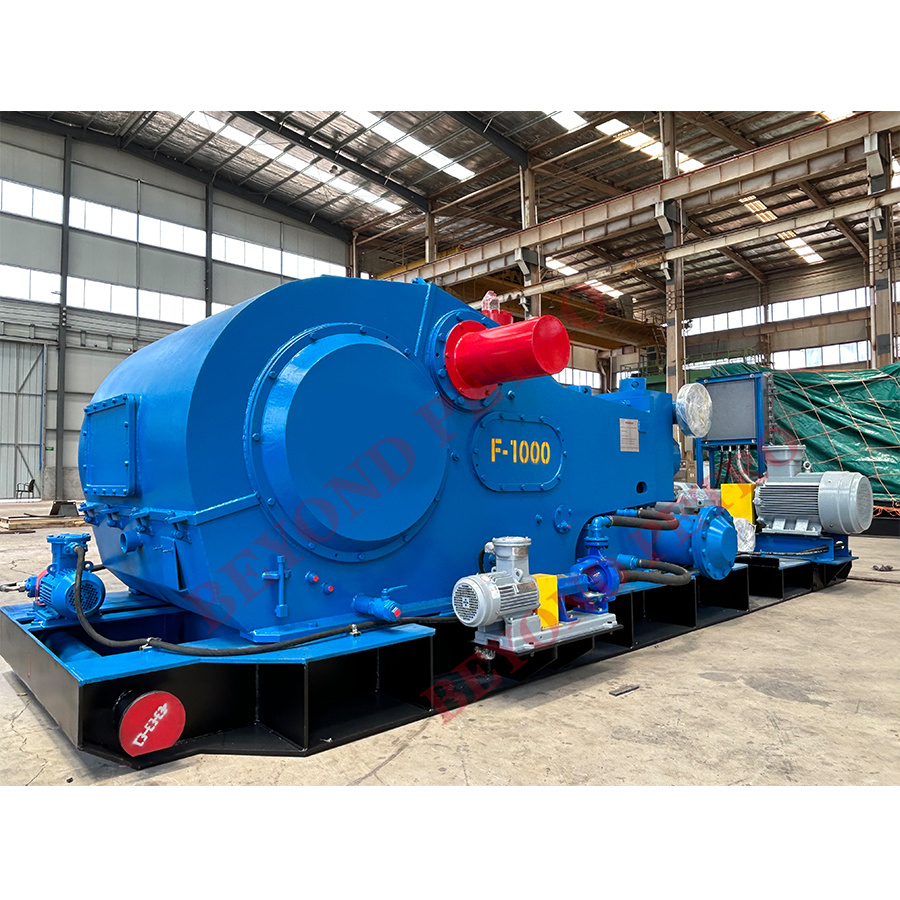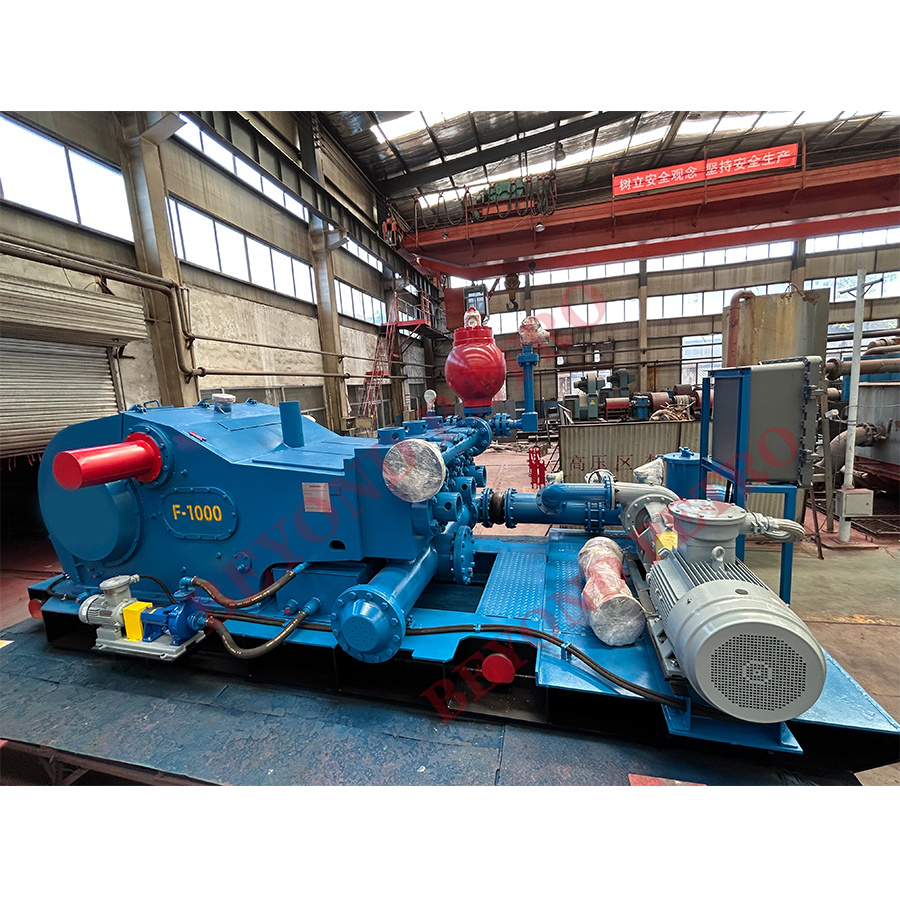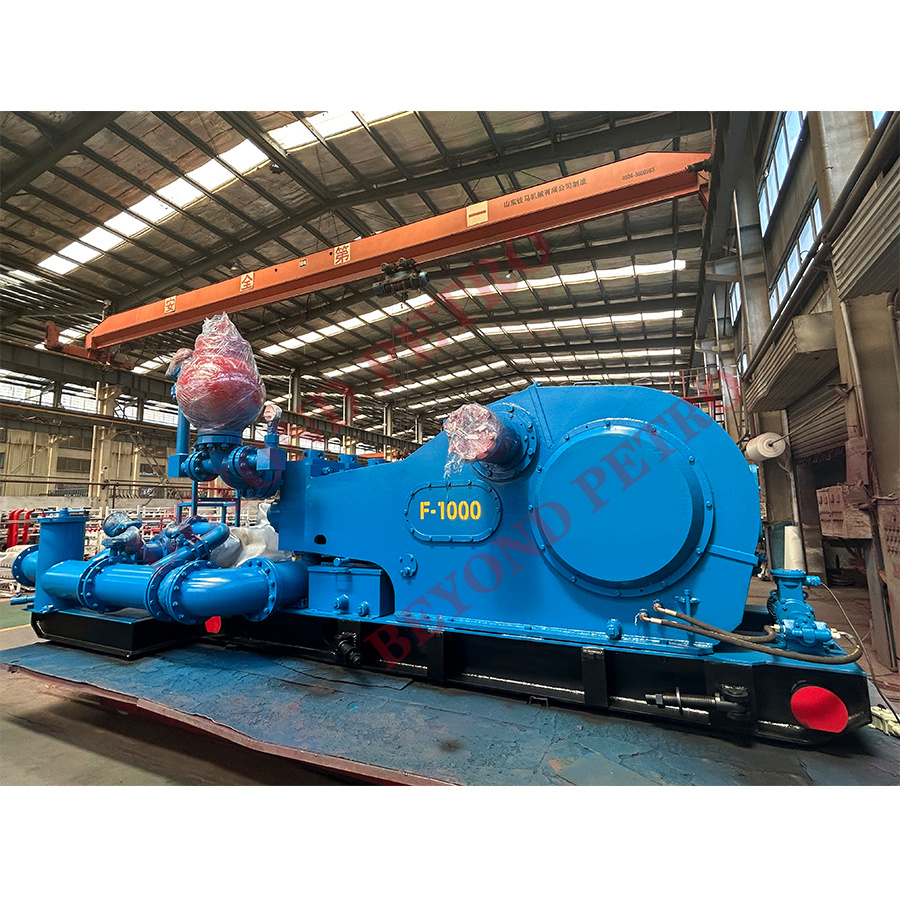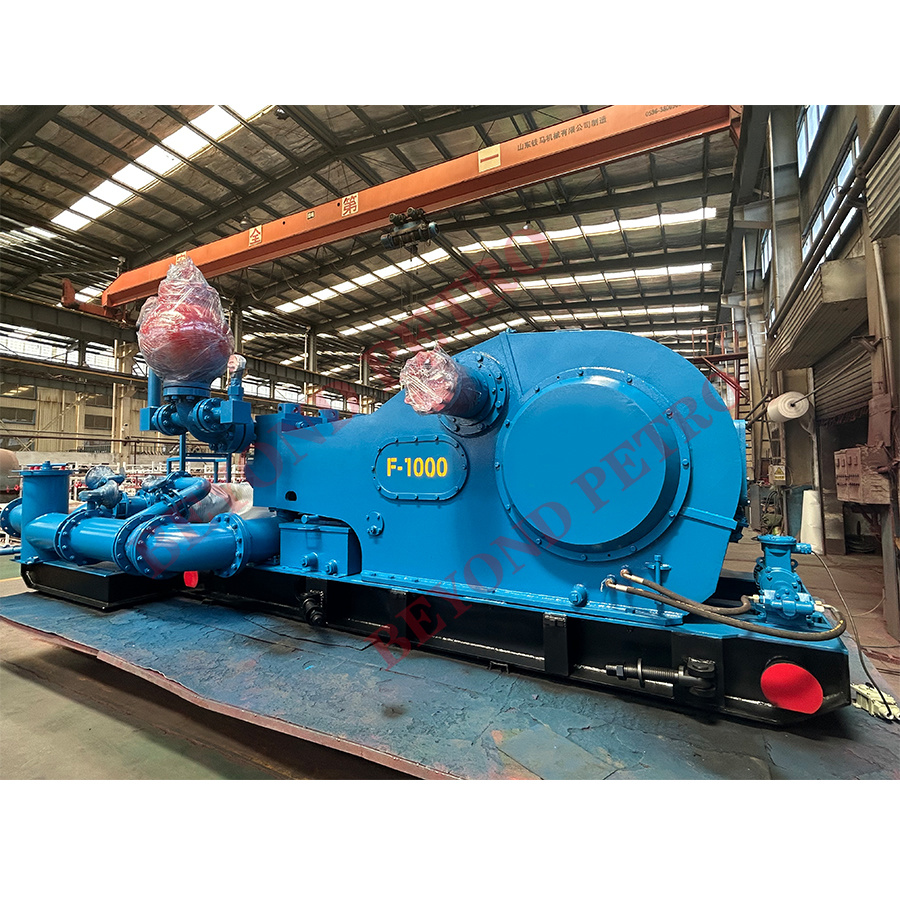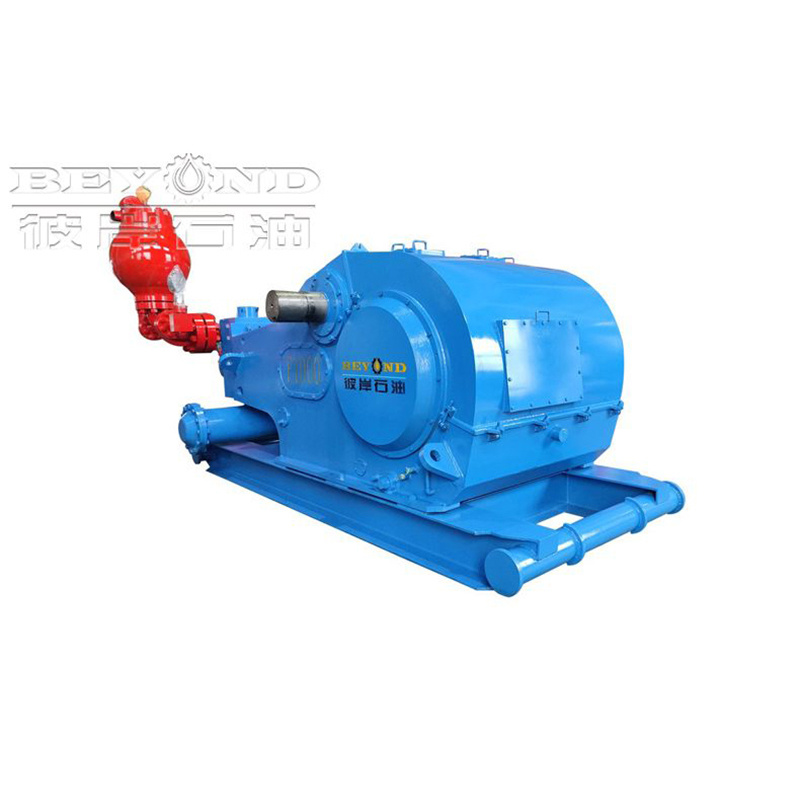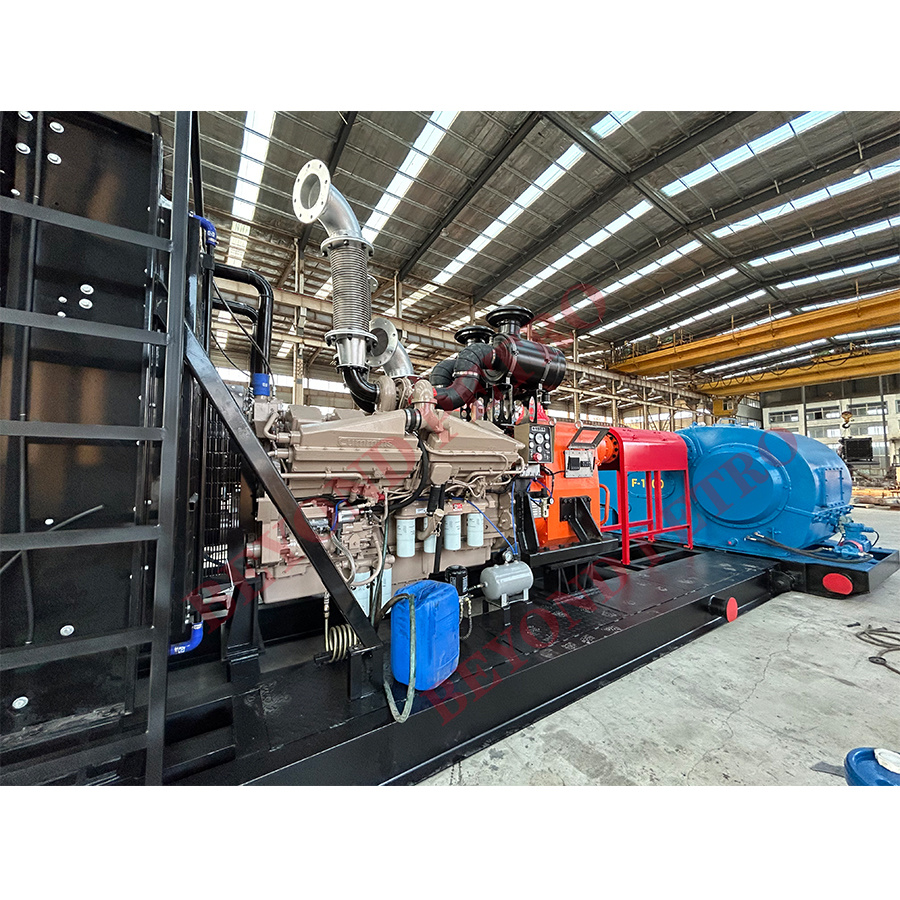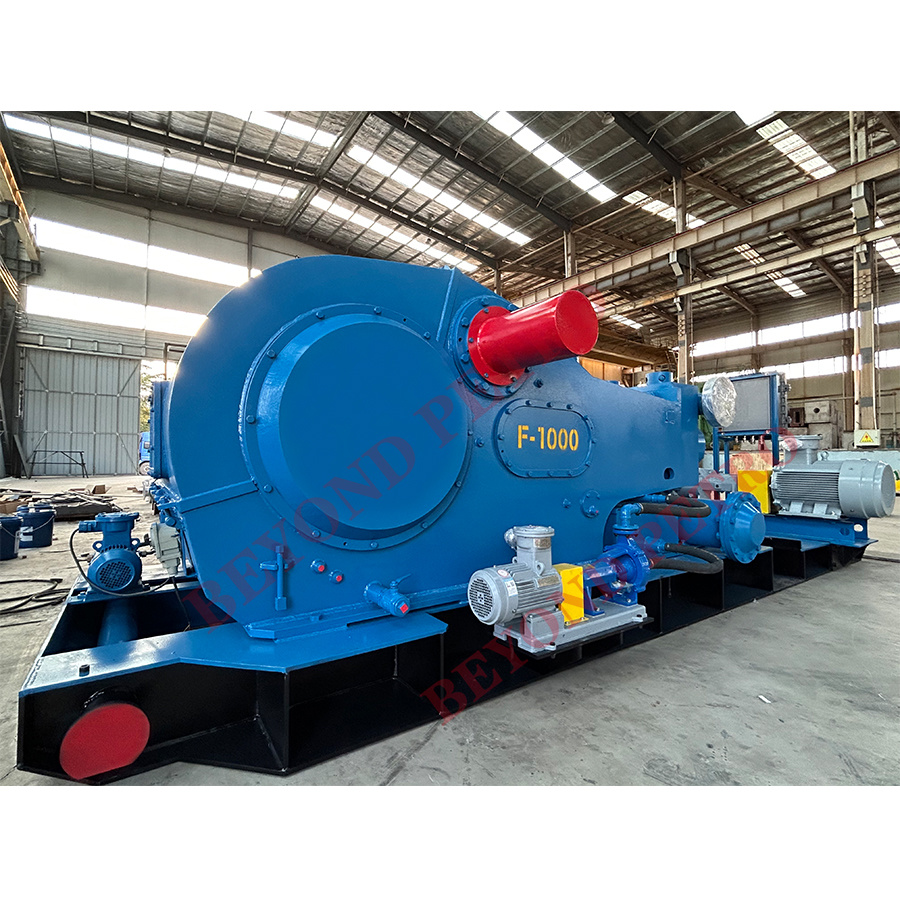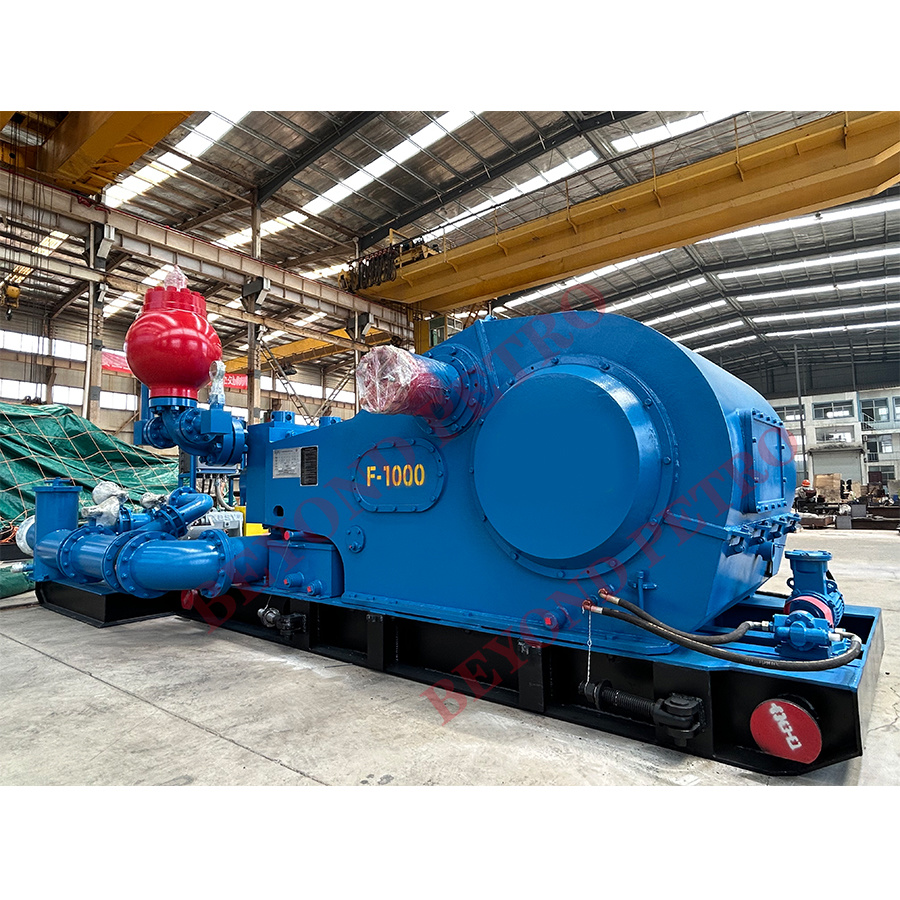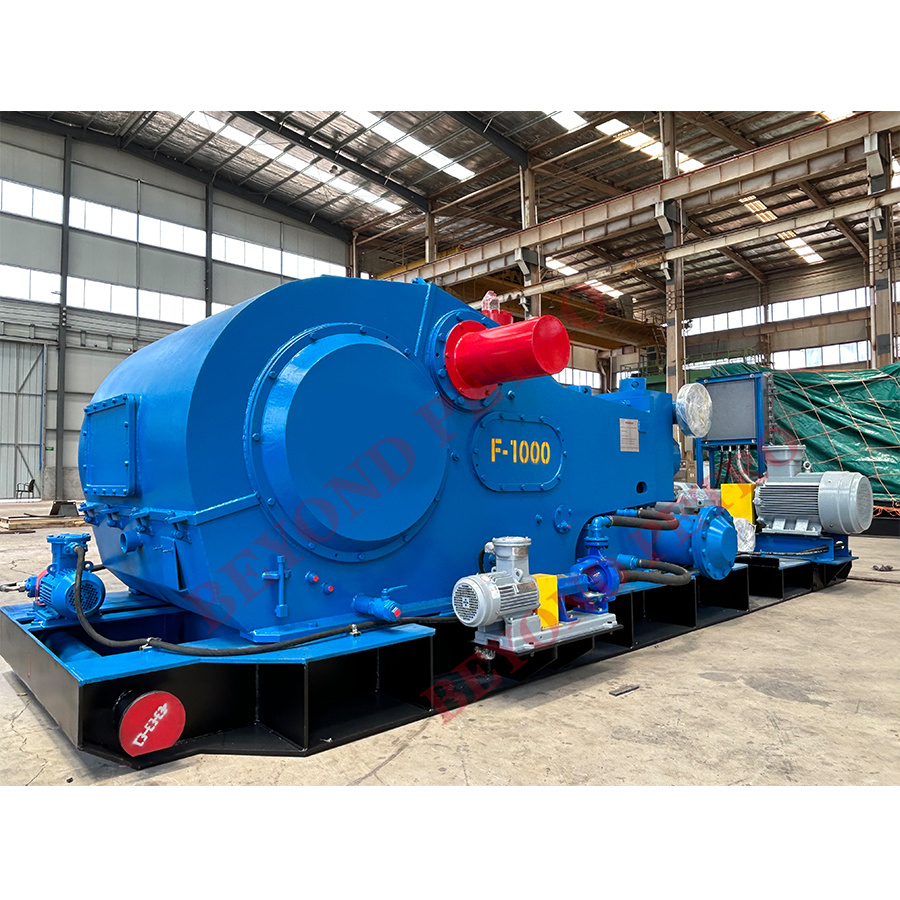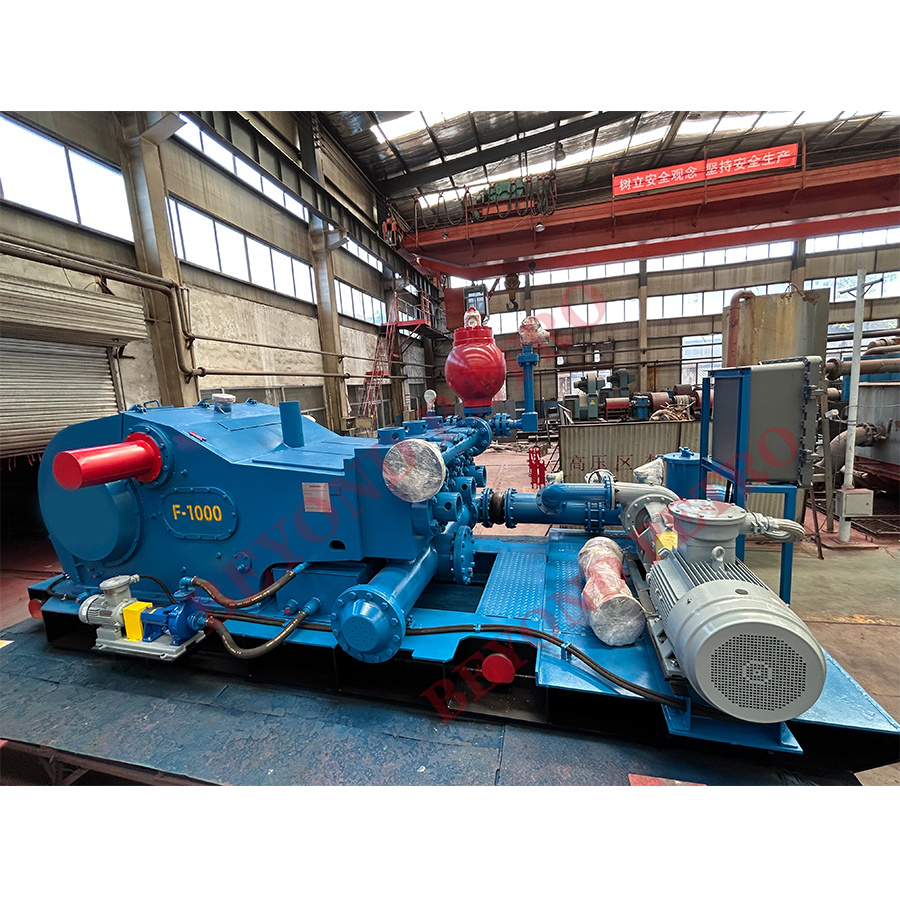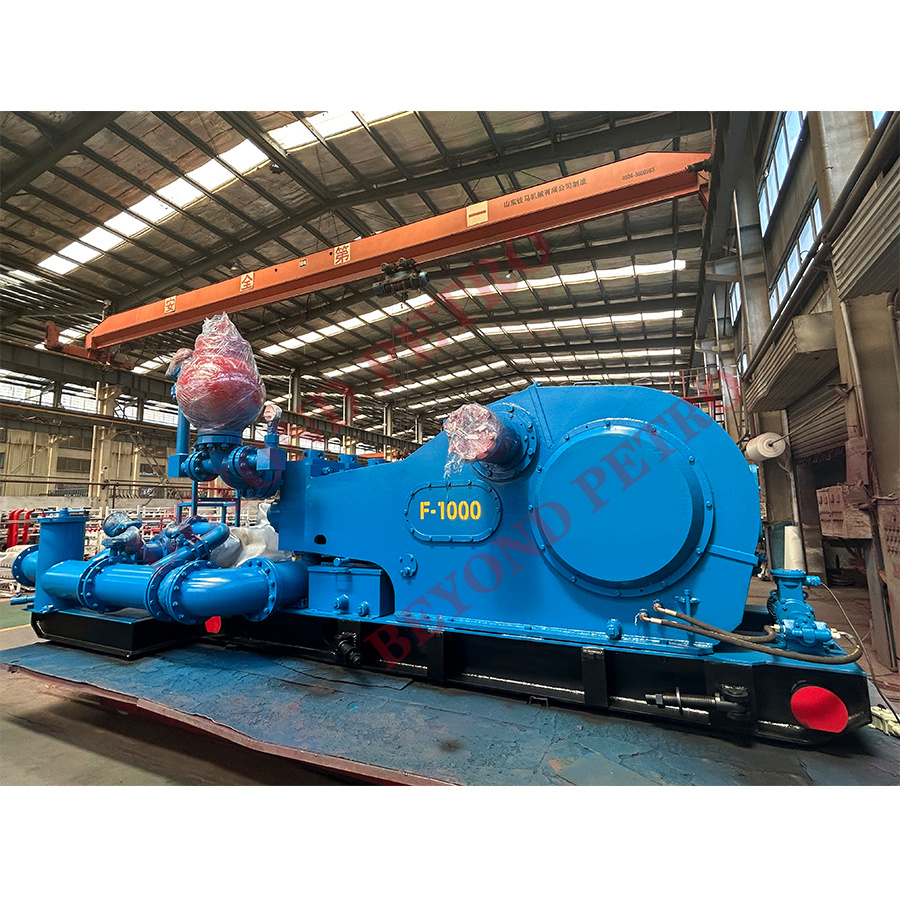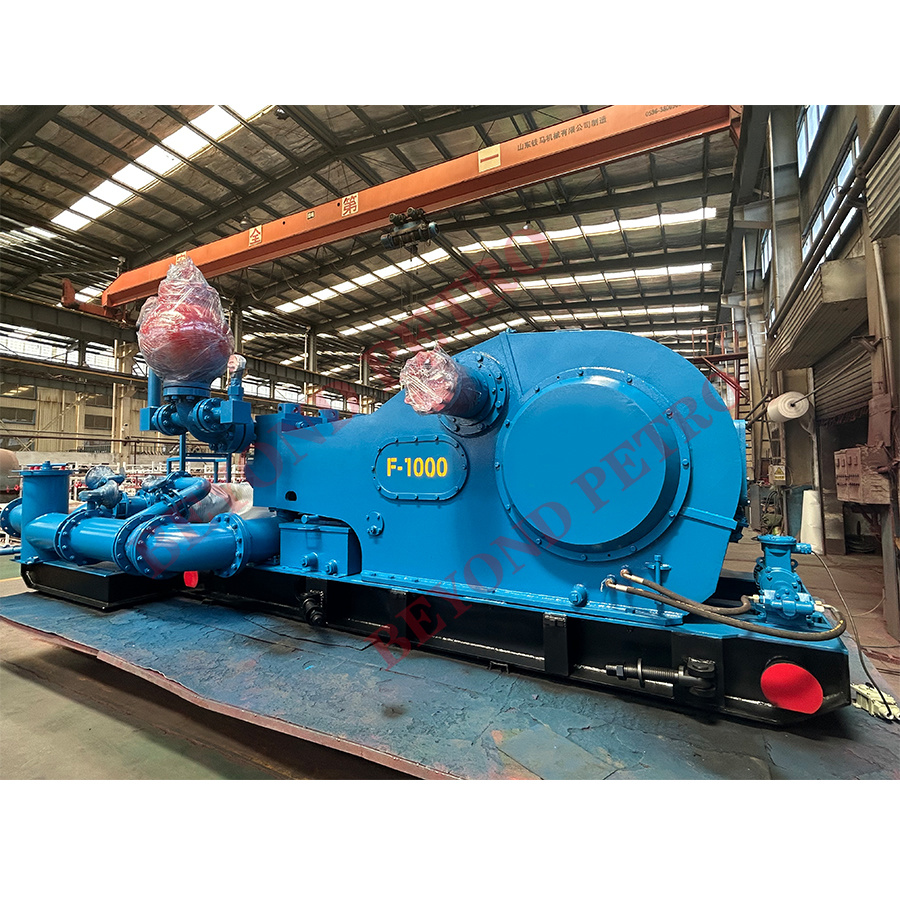 F-1000 Mud Pump
Our company F series mud pump is designed and manufactured strictly accordance with API 7K standard on the basis of Emsco F series mud pump. All its spare parts can be compatible with any other make pump. Therefore, the pump is easy to maintain internationally.
---
---
---
§A -Three interchangeable forged steel one piece fluid end.
§B -Threaded valve pot covers and cylinder heads.
§C -Valve pot according to API # 6
§D -Discharge manifold C/W two 5 1/8'' -5000 PSI- API flanged outlets.
§E -Suction manifold C/W two flanged ends.
§F -Discharge pulsation dampener 5000 PSI W.P C/W all accessories.
§G -Lubrication system : oil circulating pump installation (electrical driven, China-made) , with fresh water heat exchanger (oil cooling) , Magnetic oil filter , Cartridge type gauge.
§H -Liner flushing system consisting of:
§One independent pump electrical driven by a 3HP electric motor. (China-made)
§I -Relief valve (JA-3 shear PIN type) 1500-5000 PSI W.P to ac ng tank.
§J -Pressure gauge 0-5000 PSI.
F-1000 Technical Specifications
Type

Horizontal Triplex Single Acting Piston Pump

Gear Type

Herringbone Gear

Rated Input Power

(KW/HP)

746/1000

Gear Ratio

4.207:1

Rated Stroke (SPM)

140

Lubrication

Forced & Splashing

Stroke Length (mm/in)

254/10〃

Valve Cavity

API-6#

Inlet Connection

12〃(305mm)

Outlet Connection

5 1/8〃Flange 5000PSI

Weight(Kg/Pound)

18790/41425

Overall Dimension

(L×W×H)

4267×3167×2580mm

168〃×124.7〃×101.6〃

SPM

Rated Power

Liner Dia. (in) and Pressure Rating (Mpa / psi)

6-3/4

6-1/2

6-1/4

6

5-1/2

5

4-1/2

4

16.35

2370

17.63

2555

19.07

2765

20.69

3000

24.62

3570

29.79

4320

35

5075

35

5075

HP

KW

Displacement (L/S)/(gpm)

140

1000

746

41.05

651

38.06

603

35.19

558

32.43

514

27.25

432

22.52

357

18.24

289

14.41

228

130

929

692

38.12

604.2

35.35

560

32.68

518

30.12

477

25.31

401

20.91

331

16.94

269

13.39

212

120

857

639

35.18

558

32.63

517

30.16

478

27.80

441

23.36

370

19.31

306

15.64

248

12.36

196

110

786

596

32.25

511

29.91

474

27.65

438

25.48

404

21.41

339

17.70

281

14.33

227

11.33

180

100

714

533

29.32

465

27.19

431

25.14

398

23.17

367

19.47

309

16.09

255

13.03

207

10.30

163

Based on 100% volumetric efficiency and 90% mechanical efficiency
Specification of F-1000
Stroke

per

minute

Liner size (mm) and Pressure Rating(Mpa) /(psi)

φ170

φ160

φ150

φ140

φ130

φ120

φ110

16.6

2410

18.8

2725

21.4

3100

24.5

3555

28.4

4125

33.4

4840

34.5

5000

Displacement (L/S) /(gpm)

140

40.36

639

35.75

566

31.42

498

27.37

434

23.60

374

20.11

318

16.90

268

130

37.47

594

33.20

526

29.13

462

25.42

403

21.92

347

18.67

296

15.69

248

120

34.59

548

30.64

485

26.93

427

23.46

372

20.23

320

17.24

273

14.48

229

110

31.71

502

28.09

445

24.93

391

21.51

341

18.54

294

15.80

250

13.28

210

100

28.83

457

25.53

404

22.44

355

19.55

310

16.86

267

14.36

227

12.07

191

Based on 100% volumetric efficiency and 90% mechanical efficiency