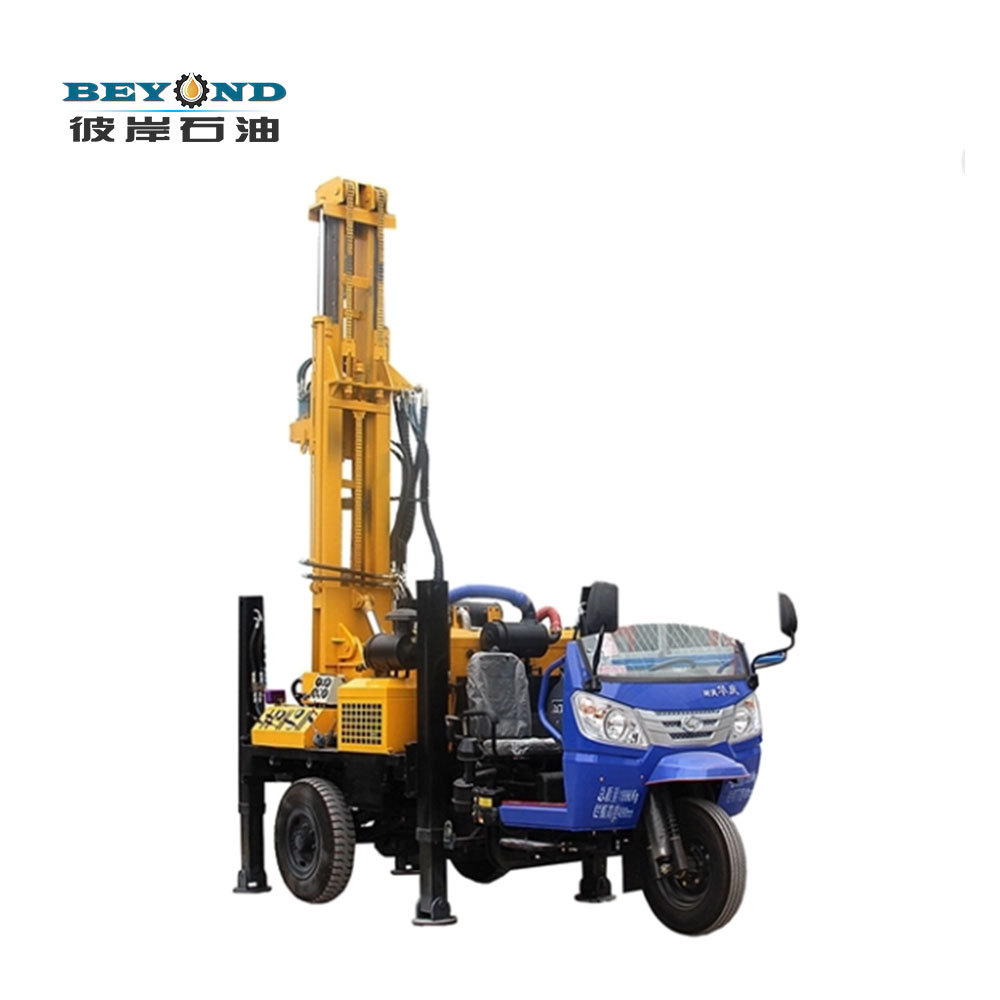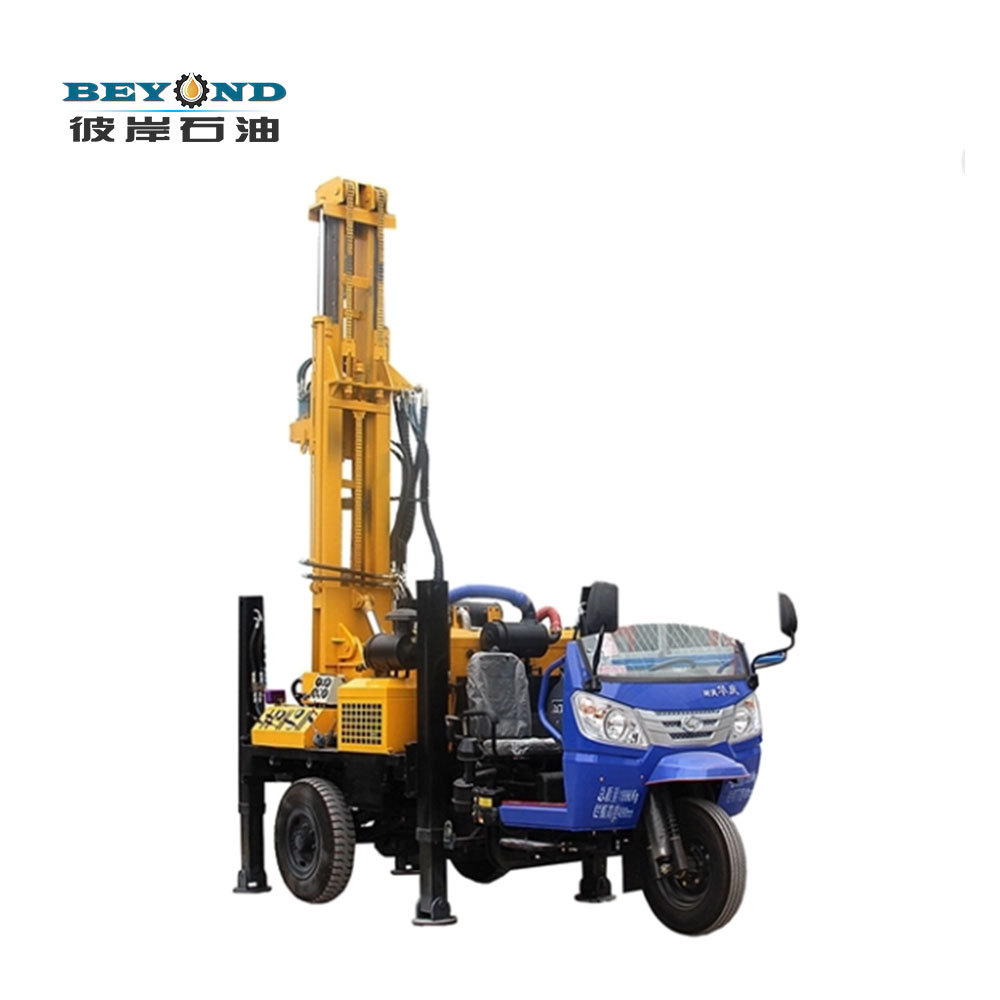 BWH200
Note: 1. Model Explanation: B=Beyond; C=Crawler-mounted; 800/600/500/…=Rated Drilling Depth; R=Rubber Crawler; W=Wheel;
---
---
---
This model rig uses full hydraulic control, and the Top drive to drive the rotation of drilling tools with very high drilling efficiency.
Reasonable overall layout uses the tractor-mounted or full ground chassis for transportation with good maneuverability.
Very flexible in difficult roads and can be widely used in many fields such as resource exploration of hydrology wells, water wells, etc.
The top-mounted driving head principal shaft has a great drift diameter, suitable for many kinds of construction work such as slurry drilling and air drilling, , meeting the demands for well-drilling at different terrain strata.
Model

BCH-800

BCH-600

BCH-500

BCH-400

BCH-350

BCH-300

Drilling Dia. (mm)

140-400

140-350

140-350

140-350

140-325

140-325

Drilling Depth (m)

700

600

500

400

350

300

Power Head Stroke (m)

6.6

6.6

6.6

6.6

6.6

3.4

Driving Speed (km/h)

2.5

2.5

2.5

2.5

2.5

2.5

Climbing Capacity

30

30

30

30

30

30

Main Power (kw)

150

132

118

92

92

85

Working Pressure (Mpa)

1.7-3.5

1.7-3.5

1.7-3.5

1.7-3.5

1.7-3.4

1.7-3.0

Air Consumption (m3/min)

17-42

17-42

17-42

17-35

17-36

17-36

Drill Pipe Dia. (mm)

102/108/114

102/108/114

102/108/114

89/102/108

89/102

76/89/102

Drill Pipe Length (m)

1.5/2.0/3.0/6.0

1.5/2.0/3.0/6.0

1.5/2.0/3.0/6.0

1.5/2.0/3.0/6.0

1.5/2.0/3.0/6.0

1.5/2.0/3.0

Lift Force (T)

30

28

26

25

24

18

Rotating Speed (RPM)

55-120

45-115

40-100

45-115

55-115

40-70

Rotating Torque (N.m)

8850-13150

8500-11000

7500-10000

6500-9000

6200-8500

5700-7500

Dimension (L*W*H)(m)

6.3*2.3*2.95

6.2*2.2*2.95

6.2*2.2*2.95

5.9*2.1*2.85

5.9*2*2.85

4.1*1.95*2.6

Weight (Ton)

13

12

11.5

10

9

7

Note: 1. Model Explanation: B=Beyond; C=Crawler-mounted; 800/600/500/…=Rated Drilling Depth; R=Rubber Crawler; W=Wheel;
| | | | | | | |
| --- | --- | --- | --- | --- | --- | --- |
| Model | BCH-280 | BCH-200 | BCH-200R | BCH-130 | BCH-180R | BWH-200 |
| Drilling Dia. (mm) | 140-305 | 140-305 | 140-273 | 100-219 | 140-254 | 140-203 |
| Drilling Depth (m) | 280 | 200 | 200 | 130 | 180 | 200 |
| Power Head Stroke (m) | 6.6 | 3.3 | 3.3 | 2.3 | 3.3 | 3.3 |
| Driving Speed (km/h) | 2.5 | 2.5 | 2.5 | 3 | 2.5 | 50 |
| Climbing Capacity | 30 | 30 | 30 | 30 | 30 | 30 |
| Main Power (kw) | 70 | 65-70 | 65 | 23 | 55 | 65 |
| Working Pressure (Mpa) | 1.7-3.0 | 1.7-3.0 | 1.7-3.0 | 1.45-2.5 | 1.7-2.5 | 1.7-3.0 |
| Air Consumption (m3/min) | 17-30 | 17-31 | 17-31 | 15-29 | 17-31 | 17-30 |
| Drill Pipe Dia. (mm) | 76/89 | 76/89 | 76/89 | 76/89 | 76/89 | 76/89 |
| Drill Pipe Length (m) | 1.5/2.0/3.0/6.0 | 1.5/2.0/3.0 | 1.5/2.0/3.0 | 1.5/2.0 | 1.5/2.0/3.0 | 1.5/2.0/3.0 |
| Lift Force (T) | 17 | 15 | 10 | 6 | 10 | 13 |
| Rotating Speed (RPM) | 40-70 | 45-70 | 45-65 | 40-65 | 45-65 | 45-65 |
| Rotating Torque (N.m) | 4300-5500 | 4000-5300 | 3200-4600 | 2200-3000 | 3200-4500 | 3200-4600 |
| Dimension (L*W*H)(m) | 5.9*1.8*2.45 | 4*1.75*2.45 | 3.95*1.7*2.3 | 4*1.45*2.05 | 3.8*1.5*2.2 | 3.95*1.7*2.3 |
| Weight (Ton) | 6.5 | 5.6 | 4.7 | 3 | 4.5 | 3 |